Bonuses — Effective Motivator for Сustomers to Make New Appointments with You
Last modified:
---
Bonuses are a great tool to attract and retain customers — gratitude in the form of points encourages them to come back to you to get a discount.

But in addition to encouraging customers, there are also a number of positive aspects for business:

customers are more likely to return, because with accumulated points, each next service becomes more profitable;
in order to get more bonuses, customers spend more money, and this has a positive effect on the growth of sales and, accordingly, increase in profits;

in addition, the Bonus program helps not only to retain customers and increase the visit period, but also to increase the average bill;
due to the term transparency of the bonus program, customers trust you more (terms of your program should be as simple and understandable as possible for customers, the accrual system should be extremely clear).
Bonuses are accrued when making a sale and paying in the appointment journal. Bonuses are accrued to all customers who fall under terms of the bonus program.

You can view the Bonus account in customer's card in the "Statistics" section.

In addition, you can accrue and write off bonuses yourself manually. Accrual and write-off can be made in the DIKIDI web version in the section "Customers" - "Bonus program" - "Operations".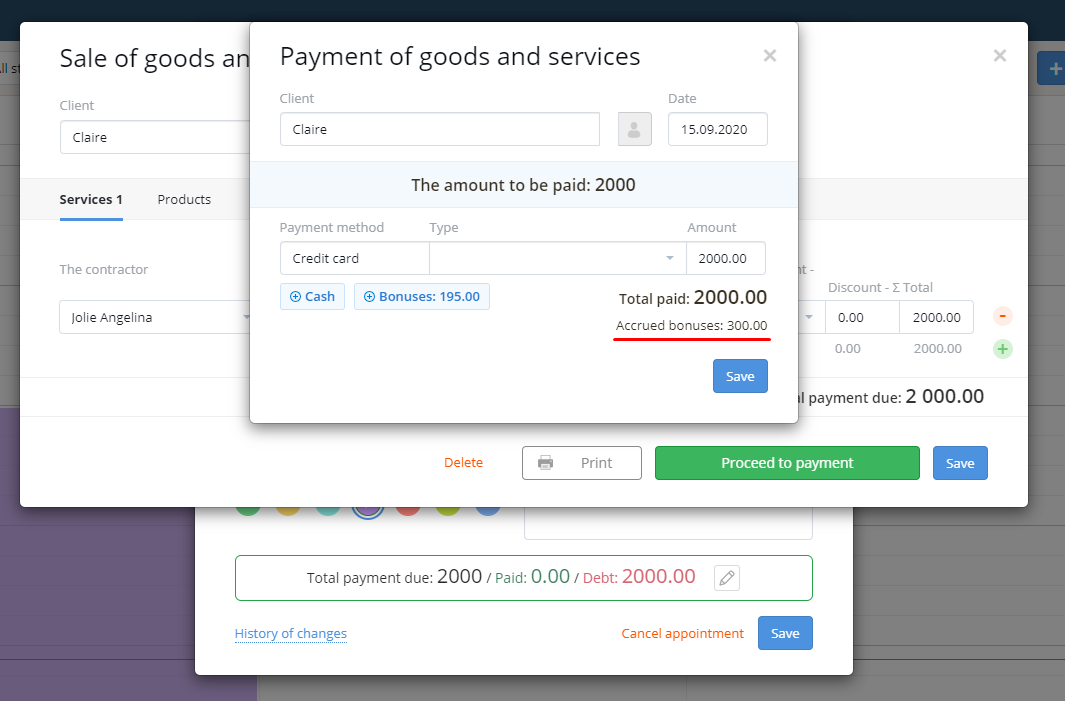 You can create several bonus programs that work simultaneously. For example, the Black Friday bonus program. If you have several programs active at the same time and a customer meets their conditions, then when making a sale, he will be awarded points for the largest % cashback of them.
You can find out all the details on connecting plans and individual modules by writing to the Support Chat: "Messages" - "Support Service".