Notification Types
Last modified:
---
What are the business benefits of customer notifications?
Customer notifications have an impact on customer returns and brand loyalty, and directly affect your profit. The customer who forgot about the appointment or the one who forgot to sign up in advance is your lost profit.

What notifications to customers exist?
1. Appointment notice
2. Visit reminder to customers
3. Visit confirmation request
4. Review and tip request
5. Return visit invitation
6. Bonuses accrual notification to customers
Notification channels:
— is a completely free service in DIKIDI;
— does not require configuration and is sent to customers via the DIKIDI Online customer app always and by default;
— comes to customers by default 2 times: both a day and an hour before the visit.
How to set up free reminders to customers via Push:
In order for customers to receive Push notifications, they need to have the DIKIDI Online mobile app downloaded to their phone. There is no need to configure anything: reminders will be sent to customers automatically a day and an hour before the visit.
Learn more about DIKIDI Online


— does not require the Internet access on customer's phone at the time of sending the reminder;
— will not get lost in a large number of chats, as it happens in instant messengers and social networks;
— does not require any installed applications on customer's phone (unlike reminders via messengers).

How to set up SMS notifications
l
— is one of the most popular messengers, and therefore there is a high probability that customers will see and read the notifications;
— the possibility of getting reviews and visit confirmation from customers;
— unlimited number of characters in a message.

How to set up WhatsApp notifications

— is a popular messenger among users;
— the possibility of getting reviews and visit confirmation from customers;
— unlimited number of characters in a message.
How to set up Telegram notifications
Manual Sending of Notifications
It is semi-automatic notification sending: DIKIDI automatically creates notification messages, and you send them manually. This saves time on composing reminders and helps ensure that all necessary messages are sent to customers.

You can send notifications from your phone number or from your social media and messenger accounts.
How it works and how to set up manual notifications for clients
The cost of notifications (SMS, WhatsApp, Telegram) can be viewed in the section "Notifications" - "Settings" - "Enable".

— When booking

Appointment Notice
They come to a customer upon the fact of creating an appointment, contain basic information about the upcoming visit and are a confirmation that the customer is signed up for the service. A convenient message to which the customer can always return and update information in memory for effective time planning.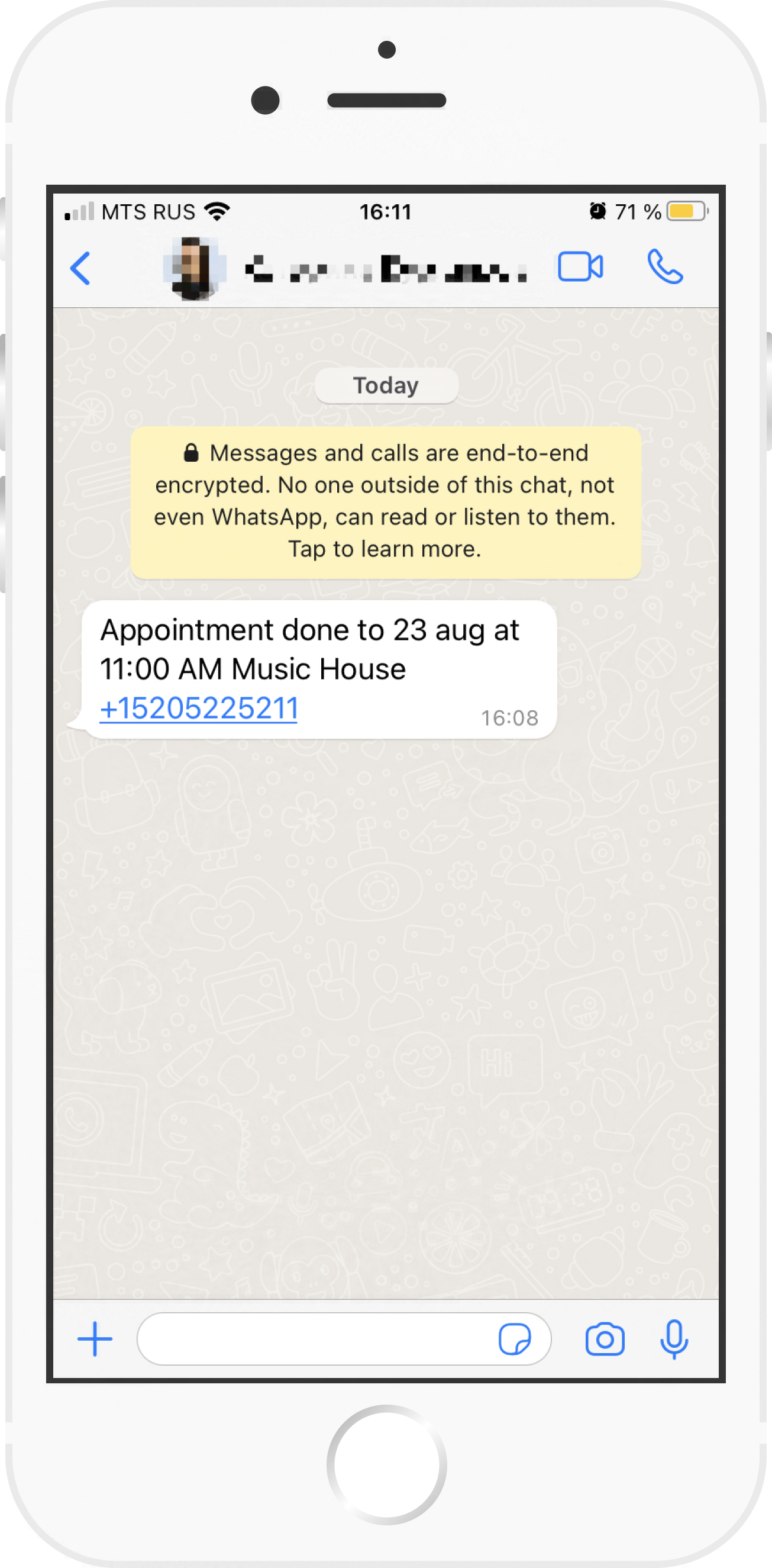 In addition, the same notifications can be configured for Employees so that they always have up-to-date information on their schedule:
— New appointment
— Change an appointment
— Cancel an appointment

— Before visit

Visit reminders to customers
It comes to customers a day and/or a few hours before their visit. Reminders have flexible settings: how many reminders and for what time to send. It's also possible to set up automatic reminders for all customers, so you do not have to make it individually.

Visit confirmation request
When setting visit reminders for customers, you can select "With visit confirmation". Then, along with a reminder, the client will receive a link to confirm the visit.
How to set up Visit confirmation requests


— After visit
Review and tip request
Collecting feedback from customers requires some effort, since satisfied customers are not motivated enough to visit a website or social network specifically and write a review. It is much easier to do this when they receive a message on their phone immediately after the visit with a direct link to a page where you can leave a review and tip if desired.
In the DIKIDI service, you can activate automatic sending of such messages to customers and quickly collect not only reviews, but also tips.
Return visit invitation
Invitation for a return visit allows you to work individually with each customer and notify him that it's time to book for a service exactly when deadline is right. You can set the interval between appointments individually (3 weeks for a manicure, a month for a haircut, etc.)
How to set up Return visit invitations
Notification of reward points accrued to customers
You can award bonuses to customers or give them as a birthday present.
In order for the loyalty programs to work effectively, it's necessary to notify customers that they have been awarded bonuses that they can spend and save on the service cost.