Automatic reminders - saves your time and increases income
Last modified:
---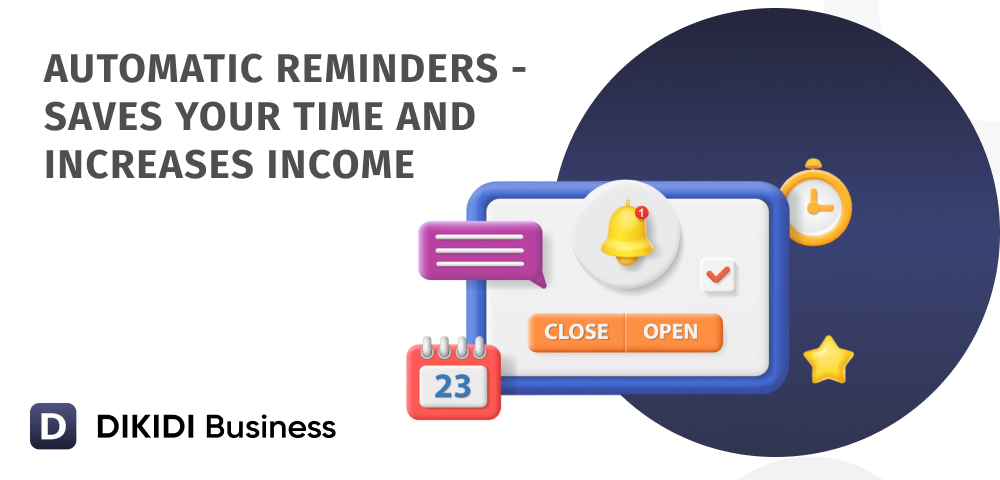 Clients tend to forget about their appointments, be late, and simply disappear after visits 😔
You need to prevent these situations, help clients and establish convenient communication.


For these purposes, automatic messages become of a great help 🔔
With them you can:
- provide a high quality service: reminding about upcoming visits is perceived as taking care of clients
- get high-quality feedback from customers
- minimize messaging with clients that take up your time


✅ Option 1: Automatic SMS reminders to customers
They will be sent to the client automatically, and you won't need to remember about this task all the time (especially it is useful when you have a lot of clients and a lot of reminders to send).
You can set several reminders for one client and solve 2 tasks at the same time: for example, the first reminder, a day before the appointment, will remind of the visit, and the second, an hour before, will help the client not be late. SMS reminders has a less chance to be lost by clients compared to messengers with multiple chats.
✅ Option 2: SMS review request
It helps to receive feedback from the client and attract new customers by increasing your rating. Instead of asking customers to leave a review, you can set up an automatic SMS request.
After the visit, clients will receive a message with the link to leave a review. You can add a link to review website, to maps or to the DIKIDI Online catalog. The reviews will get you the better rating, which influences potential customers a lot.
But what if you receive negative review? Don't panic! The information from such a review can help you improve your services and win the client back.
The best thing about reminders in DIKIDI - there are a lot of flexible settings so you can make everything for you convenience.
👉 To learn about all the options - open DIKIDI app, go to Settings - Notifications - Settings or Types of notifications. In web version - go to Settings - Notifications.